Mosaic (Nathalie Anderson and I) attended this major global conference where I was also a presenter and a session chair. I also attended one of the Master Classes, on Ageism, on the Tuesday, before the conference and was invited by AARP to an evening event at the Berkeley Bicycle Club, on Wednesday, where I had the opportunity to speak to many of the leading lights of age friendly cities and healthy aging. This post provides more detail on the conference and its content.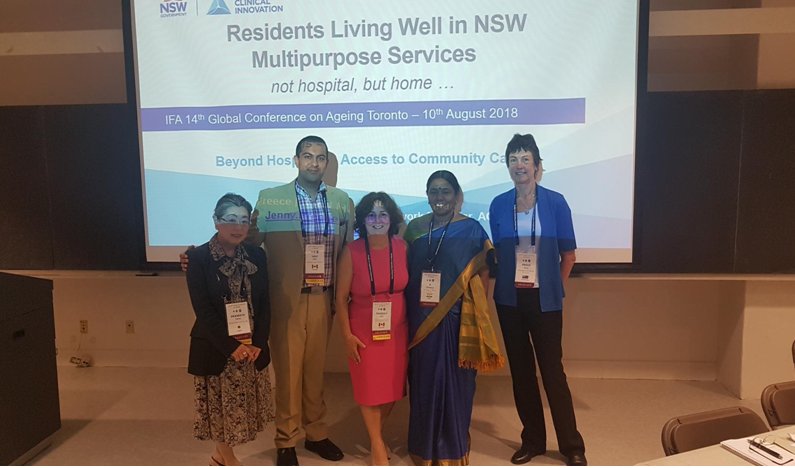 The Master Class on Ageism
The main conference started on 8th August with seven Master Classes on the 7th before the conference. I attended the Ageism Master class and the following is from its abstract:
"Negative attitudes about ageing and older people also have significant consequences for the physical and mental health of older adults. Older people who feel they are a burden perceive their lives to be less valuable, putting them at risk of depression and social isolation. Research by Levy et al shows that older people who hold negative views about their own ageing, do not recover as well from disability and live on average 7.5 years less than people with positive attitudes"
This is one of the reasons why we engage fully with the social and emotional needs of the person and their relationships and connections, where possible, to the wider community.
Putting the person at the centre of a care relationship and connecting with the person through a lens that focuses on their social and emotional needs is we believe a critical factor in healthy ageing. It also educates those who interact with persons in care, whether this interaction is at the social and emotional level or at the clinical level.
Developing inter-generational community engagement and higher levels of community engagement is also important in breaking down the barriers of perception that leads to Ageism.
The Master class was in depth and hands on and we engaged in role playing so that we could all go through some of the many hurdles that older people face, especially those with complex care needs, and develop skill sets and tools for addressing these hurdles in our interactions with older adults.
Looking at life from the perspective of an older adult is a very important part of engendering healthy aging. In the research we conduct, when developing person centered care processes, we focus very much on what older people want from their personal perspectives.
This excerpt on ageism is also from the Master Class abstract:
"Ageism takes many forms, including depicting older people as frail, dependent, and out of touch in the media, or through discriminatory practices such as health-care rationing by age, or institutional policies such as mandatory retirement at a certain age"
In home care especially, the risk is that we view the person as frail, dependent and without opportunity for personal growth. The reality is that the physical side is only a small part of our being, but if our being is ignored the physical will end up dominating all our interactions.
One of the paper presentations I mention later talks about supportive and unsupportive environments and in a truly supportive environment you touch base with the person first and foremost and then build the supports, one of which will be personal supports and nursing and other clinical supports necessary, but also supporting frameworks and interactions for the social and emotional needs and their relationships with place. The person should be seen first through a lens that does not discriminate by age or physical or mental incapacity. We respect and embrace and nurture personhood.
Mosaic's presentation: Introducing an Internationally Recognized Person Centered, Community Integrated Model of Home Care.
Our presentation was part of a 5 speaker session on "How Supportive Built Environments Create a Positive Sense of Place". Our talk briefly discussed the underpinnings and components of our framework that we use to address the wider social and emotional needs of the older adult, especially those with complex care needs.
It also addressed how people experience and the importance of generating new experiences, the higher order needs of persons that need to be addressed outside of the care model and the importance of relationships with place and community. We also addressed the important area of public health policy and some important perspectives that our own work might shed on delivering this type of model to the wider community.
The other talks in the session covered research into the importance of the "environment" on healthy aging (Stephens C, A New Zealand study), a study that looked at healthy ageing within high density urban environments (Chao T, Taiwan) and its relationship with depression.
The presentation "Living in place: Vitality through sense of place" (Wylie S, US) touched on two important layers of our model, that of interaction and engagement with place and the importance of encouraging wider community and neighbourhood interaction as well as development of social and physical infrastructure. The following are excerpts from the paper:
"The proposal is that, by linking the social and psychological needs of the aging, to sociological and architectural principles of sense of place, to physical manifestations of sense of place, a model for Living in Place is achieved, and the elderly experience vitality rather than decline"
"Rather than a model in which the elderly must resort to care facilities, which can be isolated and removed from the day-to-day life of a diverse neighbourhood, to what extent do the attributes of a community foster a fulfilling, safe and connected environment, in a way that actively addresses important social and psychological needs of the elderly and simultaneously creates demographic diversity?"
The presentation that looked at vulnerable adults in unsupportive built environments (S Biglieri, Ontario) was particularly interesting with respect to community. Unsupportive built environments are those places with limited walkability and a higher reliance on cars and public transit. Indeed we see a number of these areas in the GTA and is an issue we have identified in our own community mapping project.
Without a supportive built environment it is difficult to map neighbourhoods connections, principally because they do not exist. A concern that we feel needs to be addressed, in the wider community, is how do we work together to make environments that are supportive, how do we bring together organisations to enable and insert supportive frameworks. Mapping and understanding community and neighbourhoods is far from easy but through mapping projects and processes we can better see the gaps and the solutions.
Session chair for paper session: Beyond Hospitals – Access to Community Care
I also chaired a session on Friday 10
th
with presenters from Australia, India, Japan and from British Columbia. The session heard about
healthcare delivery in rural Australia
that has helped transform clinical settings to environments that meet a person's higher order social and emotional needs.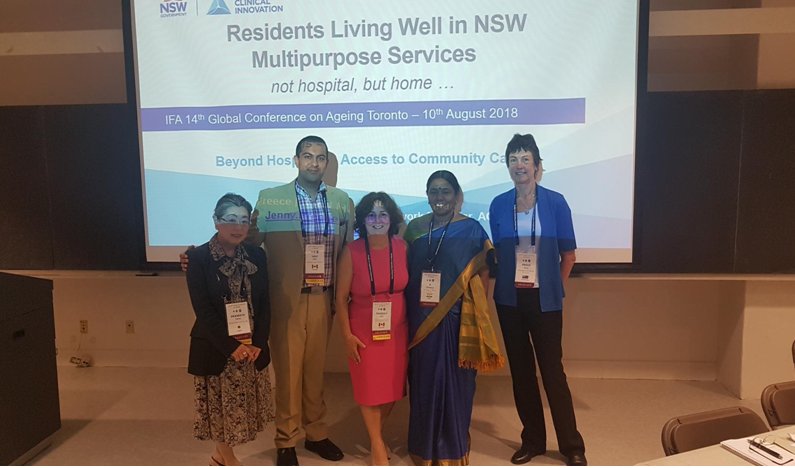 We also heard from a study of older Indian adults and the importance of relationships between carers and those being cared for. The talk addressed the very special human bond between caregivers and persons in care and was drawn from interviews with 75 older adults.
The paper session on a Canadian experience (United Way, Lower Mainland BC) about how community organisations can better meet the social and emotional needs of the socially vulnerable and the need for more support and organisation to better fund and deliver these services was also relevant. We see these community resources as fulfilling important roles within our society and address the socially vulnerable. We certainly would like, in our own work, to further the links between all these organisations so that they can work as one to provide supportive environments and also to generate wider interest and connectivity in community. This is again a longer term project.
Finally the session heard from Japan on a medical kit that is helping reduce anxiety and improve medical outcomes.
All these have central unifying themes of community, of how do we address the full range of social and clinical care needs in the wider community and how can we better organise all the many facets of care that come together to address the whole person. In each of these talks we are concerned about the person and their community.
The conference itself – (conference program)
Just to give an idea of the magnitude of the conference, the first concurrent session of speakers on the first day (8am to 9:30am) had around 70 independent workshops, symposiums and paper presentations with an additional 34 poster presentations. Each day had up to 3 concurrent sessions with two plenary sessions where all delegates attended. In all there were three days of this which meant a tremendous amount of information on age friendly environments, healthy ageing, ageism and inequalities was on offer to delegates. A feast of education and information.
In additional to the plenaries, on the first day I attended a symposium on "The cognitive Decline Partnership Centre: A national research partnership model enabling improved care for people with dementia in Australia" and the "WHO Age-Friendly Workshop: How can we create environments that enable older people to do what they have reason to value?".
Similarly on day two, in addition to the plenaries I attended paper sessions on "New Approaches to Dementia Treatment and Care", "The role of Community-Driven Leadership in Age Friendly Planning" and a symposium "Introducing an intergenerational model of conflict resolution for families with ageing persons."
Day three saw a number of engaging plenaries and I also attended a workshop on "Integrating age-friendly and dementia friendly", a paper session on "Intersectoral Collaboration as a Key Element of Age-Friendly Environments"
At the end of the week I was quite exhausted. But, I had met people from all over the world, people who were addressing similar problems, who were looking innovatively in solving them.
And the closing remarks on the conference were provided by Dr John Beard, the Director of the Department of Ageing and Life Course at the World Health Organization (WHO):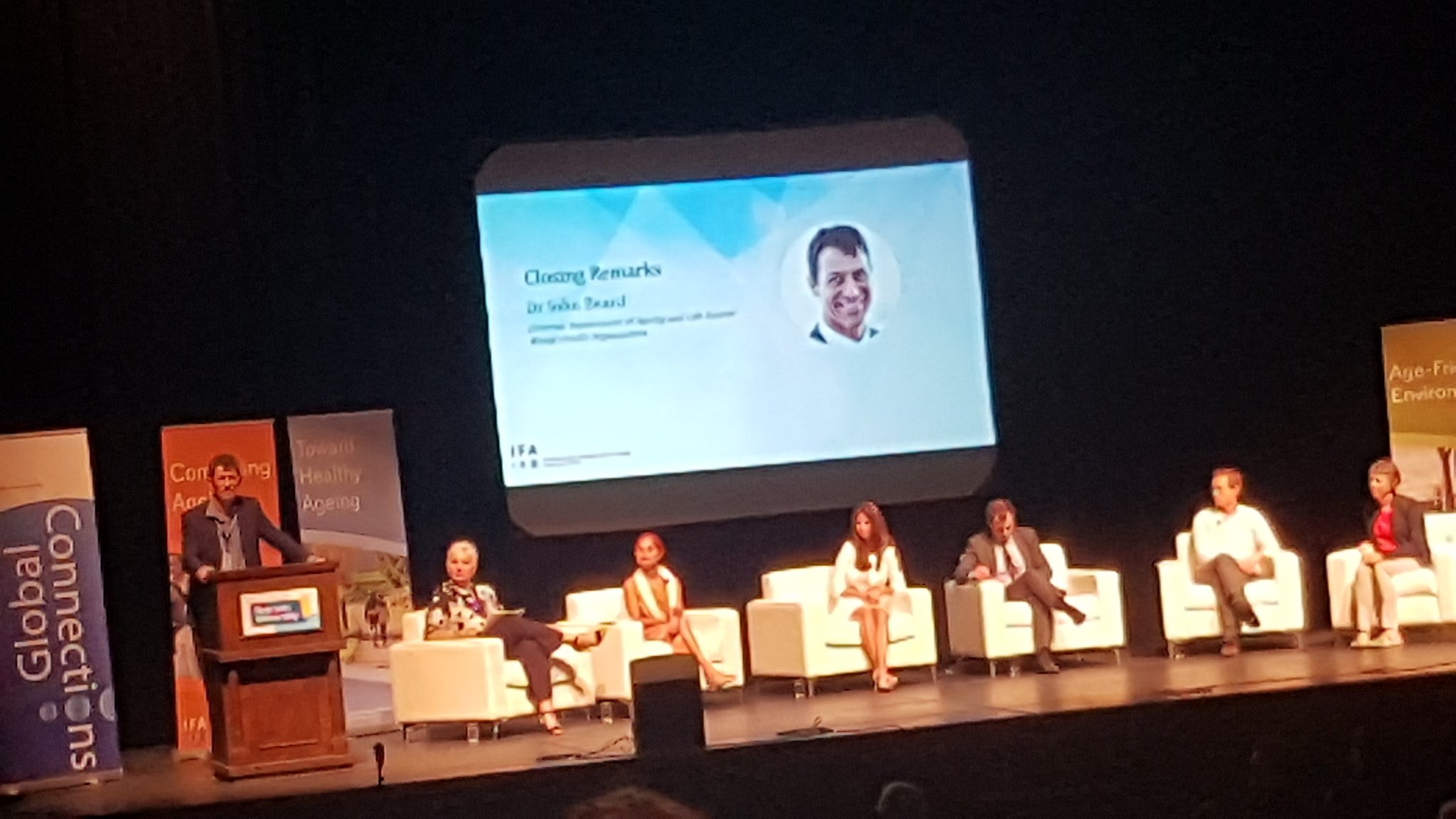 I would like to congratulate the organisers on such a wonderful job with such an enormous conference. The IFA has a twitter feed where pictures and tweets of the conference can be found. One other comment worthy of mentioning is all the contacts from people around the world that I have developed while at the conference. We need to connect because we are all addressing the same problem, and while the magnitude of our issues may differ, the problems we are looking at are essentially very similar, and our solutions most definitely help inform each and every one of us. I have grown throughout this conference, I want to continue to grow and that will be the same however old I am.
Each and everyone of us has a life force.
————-
More information on The International Federation of Ageing:
First of all some background. Just what is the International Federation of Ageing:
"The International Federation on Ageing is an international non-governmental organization … has general consultative status at the United Nations and its agencies, and is in formal relations with the World Health Organization. The IFA has been involved in drafting key initiatives…, actively advocating for older people…and maintaining a strong voice in the dialogue on how to best protect the rights of older people globally. The IFA is a registered charity in Canada, with an international and democratically elected Board of Directors…. Its vision is "A world where the health, rights, and choices of older people are protected and respected" and its goal "To be the global point of connection for experts working to influence age-related policy."
More detail on what the IFA is doing and its objectives can be found in a recent blog post by Dr Jane Barratt and Megan Acton of the IFA. This article also explained the objectives of the 14th Global Conference:
"the IFA 14th Global Conference 'Towards a Decade of Healthy Ageing', to be held on 8-10 August 2018, aims to enable older people to do what they value through a deeper evidence-based understanding of healthy ageing provided by conference delegates and speakers. The WHO Global Strategy and Action Plan were used by the IFA as a platform for the conference, with the goal of contributing to the evidence and partnerships necessary to support a Decade of Healthy Ageing from 2020 to 2030."